Threads by latest replies - Page 7
Quoted By:
Quoted By:
Quoted By:
Old thread
>>9671206
>Keep it /cgl/ related.
>All J-fash styles (lolita, mori, otome, gyaru, deco, etc.) are welcome!
>Please provide your best photos.
>Artists: it's not a bad idea to just sign your work.
>Selfposters: When giving credit, it's a good idea to refer to the art as a freebie, NOT fanart.
>Artists and Selfposters: Commissions for money are welcomed, but negotiate the terms in private.
>Helpful critique is acceptable, insults and taunts are not.
>Have fun!
Quoted By:
Quoted By: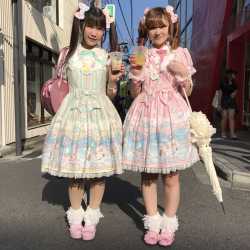 Quoted By:
Do you still look at street snaps? Did you ever? What do you think of people just dressing up for the sake of getting their picture taken?
Quoted By:
Northeast con thread

How are my nj,Philly nyc and other northeast gulls doing tonight

What cons are you gok
Quoted By:
What are your goals in cosplay and jfash for the next year? Want to learn to sew, craft your first piece of foam armour, or build a capsule wardrobe? Share!
Quoted By:
Previous Thread
>>9499126
> Cosplay Masterpost: http://pastebin.com/ekZP1fhg
- Tutorials and links that can help with Homestuck cosplays. Refer to it if you need help. Any contributions welcome.
> Crunchy Cosplay List: http://i.imgur.com/QRRWqRn.jpg
- An older list of suggested Homestuck cosplayers to follow and check out, as they have great cosplays and some also have good tutorials on their blogs.
> To discuss:
- Instagram: as more people switch over, who is worth following?
- Katsu plans? thats our next big turnout con, right?
- if you could 'cast' a set of ancestors, who would be your full set?
Quoted By:
Ello
This is a thread for questions that do not deserve their own thread or to interrupt discussion in other threads
Old thread:
>>9700841