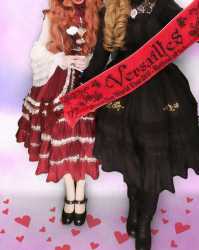 Quoted By:
Quoted By:
ITT: Guests you're sick of seeing at cons.

Pic related, seeing Vic on the guest list of any con will usually bring down my opinion of said con at least a little bit. There's so many con horror stories about him out there. Edward Elric or not, why do so many cons continue to book him despite this.
Got a piece your stuck with and don't know how to wear it?
Trying to find a new way to wear an old fave?
Completely lost but not to the point of needing to be spoonfed?

Come on in and post your problematic pieces! All J-fashions welcomed!

Please post your items and make sure you mention your budget, style or weather problems so you get better advice.
Quoted By:
Don't waste time telling others how to post edition.
Old thread here
>>9784089
Discuss!
Do you think it's popular cosplay wise?
Im highly interested in the wigs many people have come out with.
Some stuff has popped in the post office, I hope to post about my making soon.
Quoted By:
Hey /cgl/!

I know there's a decent population here that attends mid-west anime cons, and we had a decent turnout at the /cgl/ meet at Naka '17 this past March, so who's ready for another?

Naka-Kon is March 16-18 and so far Steve Blum, Sean Chiplock, and Ian Sinclair are some of the guests attached.

Who /hype/ here?
Quoted By:
Let's talk about cosplayers who have top notch skills in
>construction
>fit
>embellishment methods
>armor/prop making
>wig styling
Who are your favorites and what do you like about them?
Confess your sins gulls
Quoted By:
-Any active gyarusas still active in the US? Japan? Europe?
-Are any of your favorites still doing gyaru?
-Do you still want to do gyaru despite it being nearly dead in the west?
-Winter gyaru outfits welcomed for much needed inspo.
Quoted By:
/mkg/ - Mobile Kanojo/Kareshi General #5
"Fairies" edition
Last Thread:
>>9758782
>The most discussed apps/games are Moe Can Change!, Dream Girlfriend/Nijikano, Dream Boyfriend/Hoshikare, and Animal Boyfriend/Gijin Kareshi, but people are encouraged to introduce new games.
>We generally discuss dress-up/simulator games and smartphone/cellphone apps for waifus or husbandos.
>Occasionally discussed games include Fairy Doll, Potion Maker, Mandrake Girls, Soul Girls, etc.
>To our newfriends: please remove any /mkg/ tags and lurk more to ensure proper etiquette. We might be a dress-up game general, but spoilers don't work in /cgl/.
>/mkg/ Tips, Etiquette and Linkdump (spreadsheet of names for MCC, DG, AB, GK and FD):
http://pastebin.com/iPbE3f4d
>English Wiki links:
MCC:
http://myroid.wikia.com/wiki/Myroid_Wiki
DG:
http://dream-girlfriend.wikia.com/wiki/Dream_Girlfriend_Wikia
DB:
http://dream-boyfriend.wikia.com/wiki/Dream_Boyfriend_Wikia
AB:
http://animal-boyfriend.wikia.com/wiki/Animal_Boyfriend_Wiki
FD:
http://fairy-doll.wikia.com/wiki/Fairy_Doll_Wiki
>JP Wiki links:
MCC:
http://www56.atwiki.jp/aimi-mcc/
DG:
http://wikiwiki.jp/nijikano2d/
DB:
http://wikiwiki.jp/hosikaredays/
AB:
http://www38.atwiki.jp/gijin-kareshi/
FD:
http://www55.atwiki.jp/fairdol/
>Expression/hair viewer/background viewers:
MCC:
https://dl.dropboxusercontent.com/s/k12rhyjhezl3285/MCC_Combined_Viewer.html?dl=0
DG:
https://dl.dropboxusercontent.com/s/dhor8chzvb3czwf/DGCreator_1.05.html?dl=0
AB:
https://dl.dropboxusercontent.com/s/mbajihnc2d2lhuq/gkab%20student%20expression%20viewer.html?dl=0
FD:
https://dl.dropboxusercontent.com/s/liwskd0ogtesep8/FD_Expression_Viewer.html?dl=0
>Moe Can Change! Item Dump:
http://pastebin.com/pgDqtDf3
>Other Mobile Kanojos Games (Includes link to the apk downloader):
http://pastebin.com/xcmdi6Ck